According to the Department for Transport, more than 153,000 casualties of all severities occur in reported traffic accidents every year in the UK. Furthermore, 27% of fatal accidents are either partly or entirely caused by distracted driving (see the links under the Casualties in reported road accidents section of the data set at www.gov.uk). And accidents are twice as likely to be fatal when the driver is not wearing a seat belt.
Road safety is everyone's responsibility—car drivers, truck drivers and fleet operators alike. You and your drivers can't determine what other drivers do. As a fleet manager or owner, you can however empower your drivers to practice the highest level of safety on the road. This post highlights ways to encourage driver safety for your fleet.
Encourage distraction-free driving
Preventing accidents is the most proactive approach to safety, especially where distracted driving is concerned.
Fleet dash camera systems can motivate drivers to wear their seatbelt and adjust driving behaviors in real time. Powered by artificial intelligence, Webfleet's dashcam functions as a sensor, detecting lack of seatbelt and distractions like texting, eating and drowsiness. When the Distracted Driver feature detects unsafe driving behaviour, the dashcam sends audio-visual alerts so the driver can immediately correct course.
Dashcams serve another important driver safety purpose. In roughly 80% of collisions between cars and trucks, the car driver is at fault. Yet because trucks are much heavier—and therefore capable of causing more damage—truck drivers are more frequently found to be at fault. Since Webfleet's dashcam provides a complete view of the road, videos of incidents can safeguard you and your drivers from false claims.
Stay on top of vehicle maintenance
Regularly maintained vehicles are the safest vehicles. When your trucks are kept in good working condition, you limit the chance of unexpected breakdowns and roadside incidents.
Daily walkaround checks offer a simple way to stay on top of vehicle maintenance, especially if you digitize them, eliminating paperwork hassles for you and your drivers. A tool like Webfleet Vehicle Check, which comes with a mobile app and predefined checklists, makes driver walkarounds easy. And because the reporting is done digitally, in real time, fleet managers/owners can quickly address vehicle issues.
Daily walkarounds include tire checks, but walkarounds alone won't guarantee tire safety. While the driver will surely recognize worn treads, slow leaks can easily go unnoticed. Most tire-related breakdowns—90% of them, to be exact—are the result of slow leaks. With a Tire Pressure Monitoring System (TPMS), you gain real-time awareness of vehicle tire pressure and temperature. TPMS reduces driver safety risks with predictive tire management. By helping you keep tires at proper inflation levels, it also maximizes tire life and saves fuel.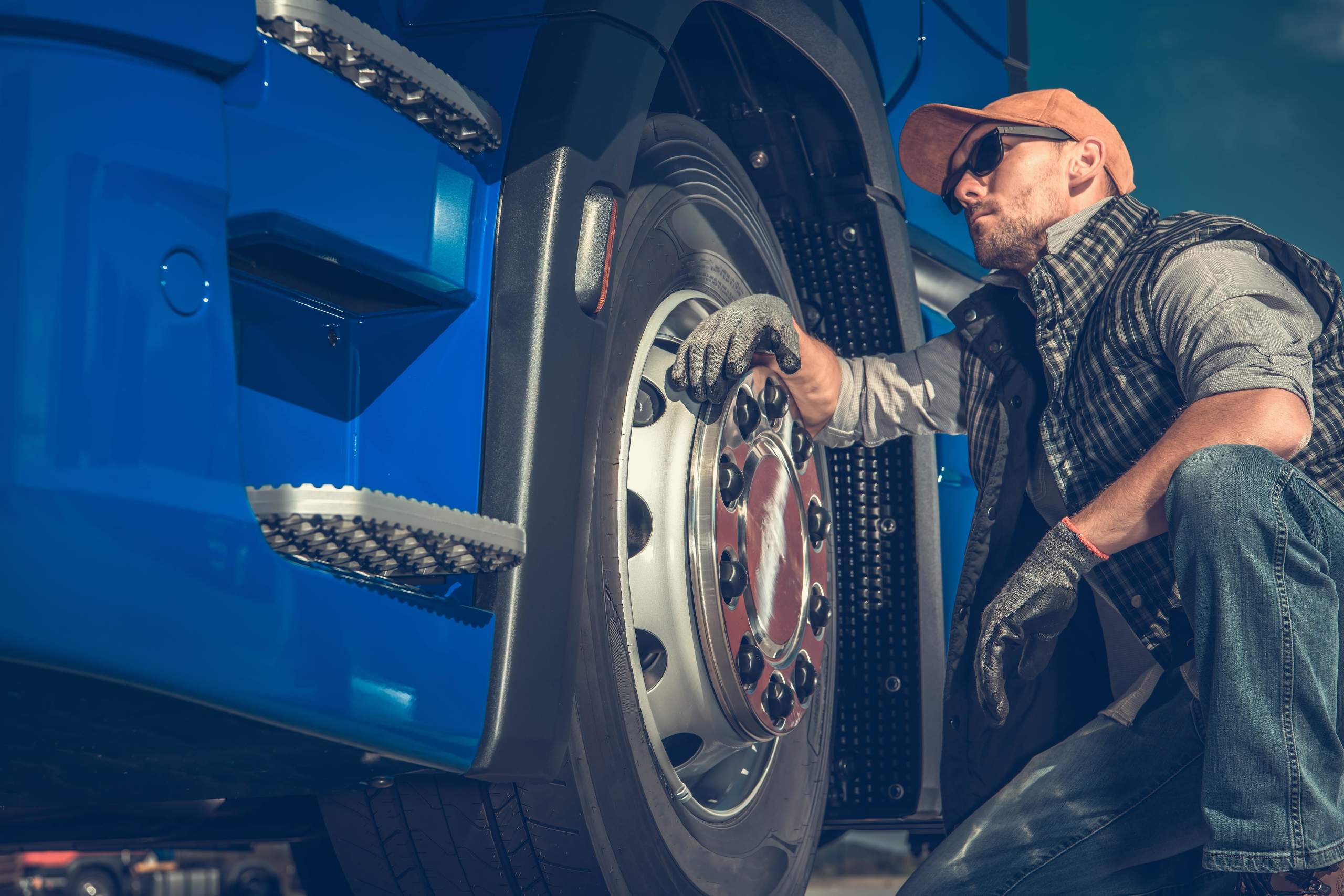 Support driver well-being
Truck driving is physically demanding work. So, factors like fatigue and dehydration have a big impact on driving performance and driver safety. One in 10 people who drive a vehicle for work purposes admit they've fallen asleep behind the wheel. Here's another attention-grabbing statistic: 40% of sleep-related accidents involve commercial vehicles.
Healthy, well-rested drivers are the frontline of your fleet's road safety. Encourage your team to eat nutritious foods and drink the medically recommended 8 glasses of water per day. Some transport companies offer a voluntary health check for all their drivers. This health check helps identify common warning signs for the profession, from high blood pressure and obesity to diabetes, stress and depression. Drivers who are at risk of such ailments can then take specific action to improve their mental and physical health, including, in extreme cases, a temporary break from work.
You could also consider adding a nutrition workshop to your initiation schedule, providing a free or discounted gym membership to new employees and creating a company sports team to invite healthier behavior.
Keep your drivers on the safest routes
Drivers can control only so much behind the wheel. Lend them a safety hand by ensuring they're on the best possible roads. If you're wondering how to optimise your routes while improving road safety, truck-specific navigation could be the ideal solution.
With professional navigation, you get up-to-date traffic information, helping you plan around traffic jams, construction zones and bad weather conditions. You also optimise routes according to vehicle height and weight, so drivers bypass narrow streets and low bridges. Plus, you can account for any hazardous materials loads in your planning.
Best-in-class navigation is not just a matter of safety. It's also about efficiency. Drivers can eliminate backtracking and idling because of closed roads or clogged traffic. This translates into saving fuel that would otherwise be consumed by driving unnecessary miles or sitting in unmoving traffic.
The right fleet management tools can facilitate greater road safety while also helping drivers make it home safely at the end of their shifts. Wondering which tools are right to improve driver safety for your fleet? Learn more about our complete fleet safety solutions—or request a free consultation with one of our fleet safety experts.